NEWS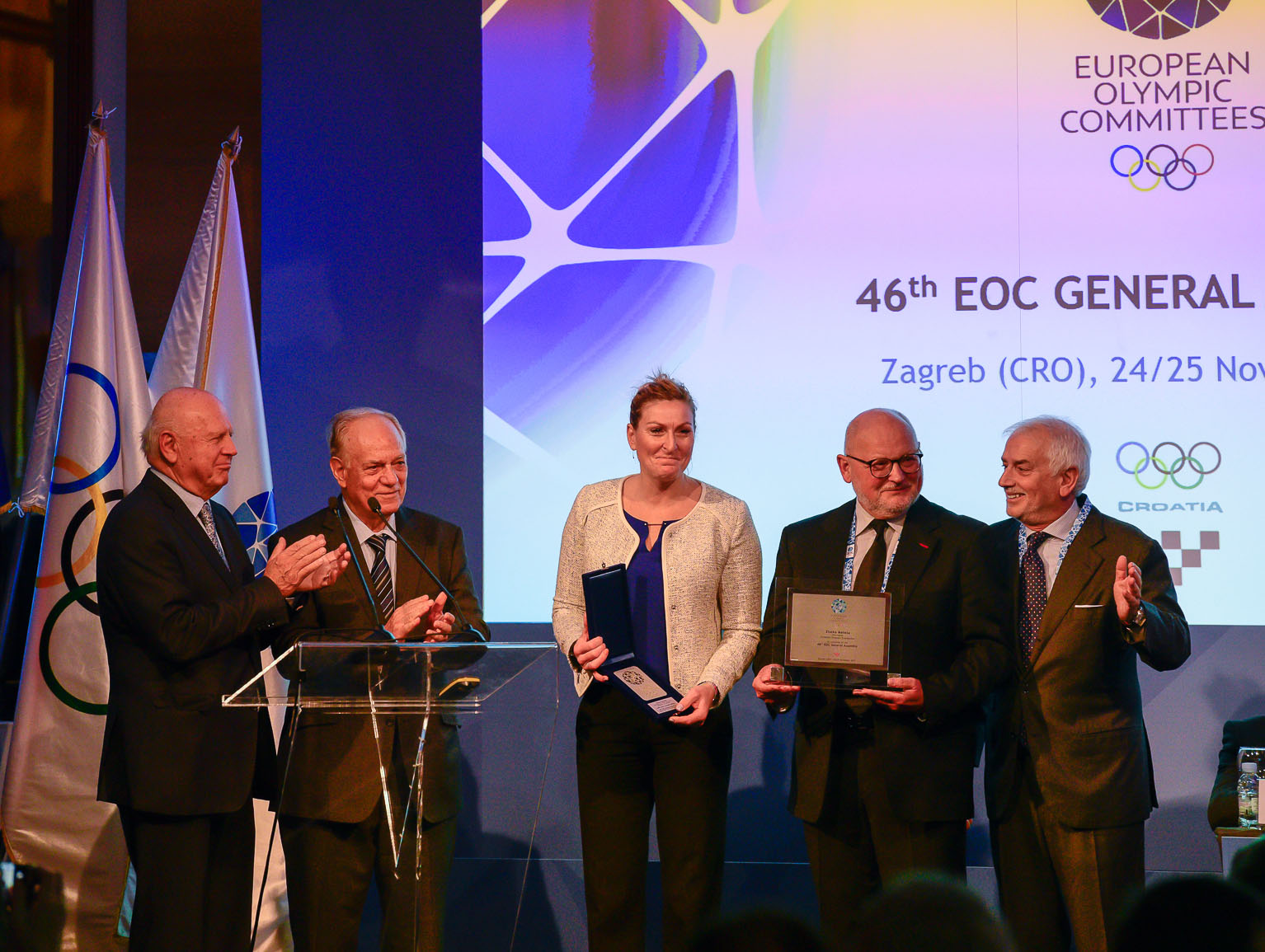 46TH EOC GENERAL ASSEMBLY OPENED AHEAD OF EXECUTIVE COMMITTEE ELECTIONS
The Zagreb two-day Assembly began today with Croatian Olympic Committee President Zlatko Mateša and the Republic of Croatia Secretary of State for Sport Janica Kostelić offering a warm welcome to the delegates of all 50 European National Olympic Committees.
Participants received welcome addresses from senior stakeholders in the Olympic Movement, including IOC President Thomas Bach, EOC Acting President Janez Kocijančič, and ANOC President Sheikh Ahmad Al-Fahad Al-Sabah, who reflected on the EOC's success over the past four years and looked ahead to an important next quadrennial.
On the opening, Kocijančič awarded the 2017 EOC Order of the Merit to Zlatko Mateša, praising his instrumental role as the "founding father" of the European Games. Upon awarding Mateša with this prestigious honour, Kocijančič thanked him for his invaluable contribution to the European Olympic Movement and for his leadership in the organisation of this year's General Assembly.
The morning's Session also heard reports from EOC Secretary General Raffaele Pagnozzi, EOC Treasurer Kikis Lazarides and ANOC Secretary General Gunilla Lindberg. The 2016 accounts and 2018 budget were unanimously approved by the Assembly.
The General Assembly follows the final meeting of the current Executive Committee yesterday morning, where a key focus was the progress of the Minsk 2019 European Games. Coordination Commission Chair Spyros Capralos informed EOC Executive Committee members of the excellent progress that is being made in the Belarus capital. Today, Capralos and Minsk 2019 European Games Chief Executive George Katulin both reported to the Assembly, sharing the same message of the excellent cooperation between the two organisations. Capralos and Katulin's reports follow the landmark agreement the EOC signed yesterday with European Athletics to launch the short, compact and forward-thinking "Dynamic New Athletics" concept at the Minsk 2019 European Games.
EOC Acting President Janez Kocijančič said:
"I would like to thank our hosts the Croatian Olympic Committee for a wonderful welcome to the beautiful city of Zagreb. I would like to especially thank President Zlatko Mateša for his outstanding leadership and service to the European Olympic Movement. His contribution has been invaluable to the EOC and he truly deserved the honour of receiving the 2017 EOC Order of the Merit.
"With the election of the new Executive Committee later today, it is great opportunity to reflect on the successes of the past four years and to look at how this can help us continue to improve as we move forward. The second edition of the European Games in Minsk in 2019 will be a demonstration of the amazing things that can be achieved in international sport, and it is important that the EOC keeps working hard reach to achieve its objectives."