NEWS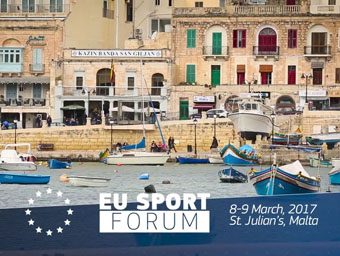 EOC ATTENDS 14th EU SPORT FORUM
La Valletta, 9th March 2017
European institutions and sports stakeholders have since yesterday animated the Malta for the 14th Sport Forum organised by the DG Education, Youth, Sport and Culture of the European Commission.
Speaking to the delegates, EOC Acting President Janez Kocijančič recalled the long standing relationship and the commitment of the European Association towards the EU. The EU EOC Office in Brussels, represented in Malta by director Folker Hellmund, and the EOC EU commission chaired by Juri Tamm (EST), are active links between the two bodies.
While the country mourns the loss of the Azure Window – the impressive and much photographed arch-shaped rock on the Maltese shores that recently collapsed unexpectedly – the main platform for structured dialogue between the EU and sport is taking stock of progress in implementing the EU agenda for sport, also seeking stakeholders' views on current, planned and possible future activities.
European Commissioner for Education, Youth, Sport and Culture Tibor Navracsics took part in the EU Sport Forum High-level panel debate on the promotion of grassroots sport within the EU.
During one day and a half, various sessions are discussing many topics of interest for European sport, including: grassroots sport, good governance, volunteering, follow-up of the high-level groups on sport diplomacy and grassroots sport, doping, innovation, contribution to growth and jobs.
Most of the sessions are streamed at https://ec.europa.eu/sport/events/201700127-eu-sport-forum_en , and presentations and speeches from the event will be uploaded shortly after the event.