NEWS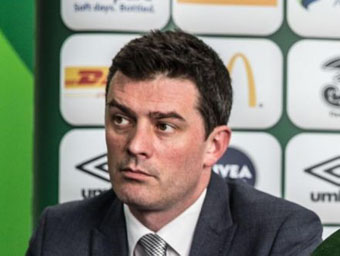 IRELAND – PETER SHERRARD APPOINTED AS NEW CEO OF THE NOC
Former operations director of the FAI (Football Association of Ireland) Peter Sherrard, has been appointed as the new Chief Executive of the Olympic Council of Ireland (OCI). He will take up the post in May of this year and comes in for current CEO Stephen Martin.
He has held a number of management positions during his career including market manager for Ryanair in Italy, head of communications at Ryanair, director of communications at the FAI, interim commercial director at the FAI, and his current position, operations director at the FAI (since 2014).
Originally from Newcastle, Co Down and a graduate of Trinity College Dublin, he is a fluent French and Italian speaker having lived and worked in both countries.
"We are very pleased that we have been successful in attracting a person of the calibre and experience of Peter to the Olympic Council of Ireland," said OCI President Sarah Keane. She remarked that his experience and leadership skills will bring an added value to the Irish NOC and will be perfectly in line with programme of reform recently launched in Dublin.
"I am delighted to have been appointed CEO at this exciting time of growth and change at the OCI. I look forward to working with the Board and staff of the OCI to build on the good work of the past 12 months," said Sherrard.
He also stressed that, especially with the Winter Games currently underway in PyeongChang and the 2020 Summer Games in Tokyo fast approaching, he firmly shares the Board's commitment to place athletes and Federations at the centre of the OCI's work.