NEWS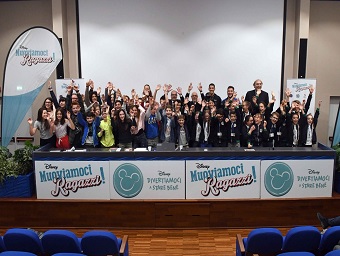 "LET'S MOVE, GUYS!", THE DISNEY ITALY PROJECT TO PROMOTE SPORT
ITALY – More than 3000 classes with more than 500 projects were involved in "Let's move, Guys!", the campaign launched by The Walt Disney Italy Company last December. This project was addressed to the Italian primary and secondary school students and its purpose was to bring in class the spirit, the joy and the fun of the kids' most loved characters, in order to promote sport and its values of sharing, social inclusion, growth, as well as a correct diet and healthy lifestyle.
Thanks to CONI (Italian National Olympic Committee) and the collaboration of its Federations of Judo, Karate, Wrestling, Martial Arts (FIJLKAM), Gymnastics (FGI), Basket (FIP) and Rugby (FIR), a special team of coaches and sport champions went back to the school desks, steering teachers and pupils towards this path. The Ambassadors involved in the initiative are Alessia Maurelli and Alexandra Agiurgiuculese (Rhythmic Gymnastics), Vanessa Ferrari, Giorgia Villa, Asia and Alice D'Amato (Artistic gymnastics) Cecilia Zandalasini, Francesca Dotto and Diego Flaccadori (Basketball); Matteo Marconcini and Edwige Gwend (Judo), Viviana Bottaro (Karateka), Frank Chamizo (Wrestling); Giovanbattista Venditti, Maxime Mbandà, Angelo Esposito and Tommaso Benvenuti (Rugby). All of them recorded a video tutorial (accessible on the website www.muoviamociragazzi-disney.it)  to give evidence to the importance of sport in promoting fun, wellness and inclusion.
According to the figures came out from a survey carried out by SG Plus Ghiretti & Partners Sport Advisor – an Italian sport consulting agency – 1 out of 4 kids between 6 and 17 years old do not practice any physical activity or sport.  The causes seem to be economical and especially related to the new impact of technology.  The younger generations spend most of their spare time at home surfing the net and playing with their tablet, smartphone or pc. The alarming data is indeed the neglect of sport activities. Despite in recent years the number of youngsters playing sport has increased, the moment in which they stop practicing is constantly moved up. Nowadays, physical activity is neglected at the age of 11-14 years old, whereas some time ago the average was older, between 18 and 19 years old.
This is the reason why this project was born. "Our goal is to convey the importance and the beauty of exercise and daily-life correct habits to children" – stated Country Manager of The Walt Disney Company Italy Daniel Frigo. "We want to bring this message to schools – a place of learning, but also of growth and social inclusion – by developing a simple and engaging approach, with fun materials and unique experiences that can inspire kids to learn how to keep fit and healthy while having fun".
Pupils were provided with didactic material and educational games and involved in team competitions, where they had the mission of expressing what "Good Habits" are by means of 3 types of production: audio (composing song lyrics), video and writing (make up a story).
The 16 winning classes were announced yesterday April 11 and they will have the chance to experience over May the  "Let's Move Day", an entire school day where they can spend time together with their favourite sport idols and get gadgets and sport kits from them.