NEWS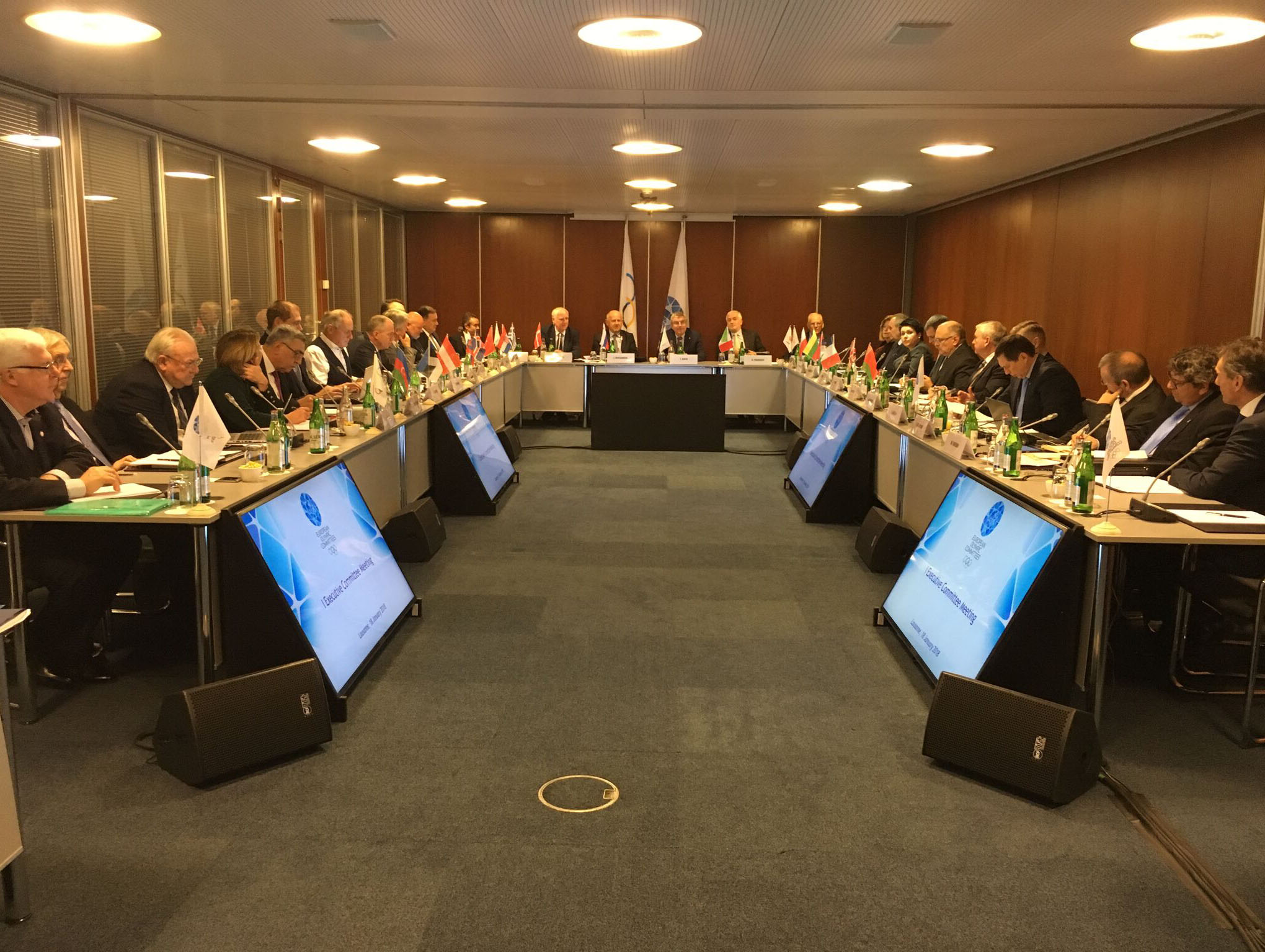 NEW EOC EXECUTIVE COMMITTEE HOLDS SUCCESSFUL FIRST MEETING IN LAUSANNE
Lausanne, Switzerland; 18 January 2018: European Olympic Committees (EOC) President Janez Kocijančič led a constructive first meeting of the newly elected Executive Committee (EC) today, with preparations for the Minsk 2019 European Games a key item on the agenda.
The meeting was the first gathering of the new EC for the 2017-2021 quadrennial, which was elected at the 46th EOC General Assembly in Zagreb in November last year. Kocijančič, who served as Acting President for 15 months before being unanimously elected as President in Zagreb, praised the efforts of the newly elected EC and pledged to keep working hard to provide the 50 European National Olympic Committees (NOCs) with the support they need.
International Olympic Committee (IOC) President Thomas Bach attended the meeting and updated the EOC EC on the latest issues in the Olympic Movement. Last night, President Bach hosted a welcome dinner for the new EC at the Lausanne Palace Hotel. Kocijančič thanked the IOC for their ongoing support and pledged the EOC's full support to the IOC for their decision regarding Russia's participation at the PyeongChang 2018 Olympic Winter Games.
Minsk 2019 European Games Organising Committee (MEGOC) CEO George Katulin and Coordination Commission Chair Spyros Capralos updated the EC on the progress of the organisation of the second edition of the EOC's flagship event. Katulin presented several small changes to the sports programme, notably the increase in medal events from 198 to 208. Archery will now have three more medal events, wrestling freestyle, wrestling women and wrestling Greco-Roman two more each, and canoe sprint one more.
Speaking after the meeting, EOC President Janez Kocijančič said:
"I am pleased with the progress we have made today and the number of important topics we have been able to cover in detail. In particular, I would like to congratulate the Minsk 2019 European Games Coordination Commission and the MEGOC for their continued hard work and efficiency. It is normal to encounter problems when you are organising events on this scale, but the devotion of everyone involved enables us to quickly overcome any problems we may face.
"I have every confidence that the Minsk Games will provide a dynamic blueprint, aligned with the principles of Olympic Agenda 2020, for future editions to follow. Each country is different and it is important to have an adaptable model that will encourage countries of all sizes to tender for the Games in the years to come."
Association of National Olympic Committee (ANOC) Secretary General Gunilla Lindberg, who serves as an ex-officio member on the EOC EC, provided an update on the activities of the ANOC. EOC Secretary General Raffaele Pagnozzi and Treasurer Kikis Lazarides both gave reports to the EC, and the structure of the EOC commissions for the 2017-2021 quadrennial was established.