NEWS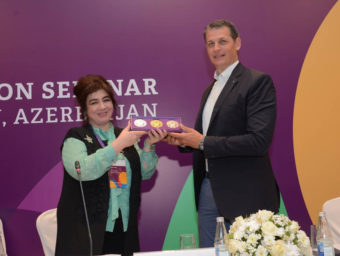 Organisers unveil medals for Baku 2019 EYOF
The medals for the 15th edition of the Summer European Youth Olympic Festival (EYOF) were unveiled today during a Chefs de Mission Seminar for Baku 2019.
Baku 2019 Chief of Staff Nikki Efendi presented the set of gold, silver and bronze medals, which were designed by the local organising committee and produced by Azersuvenir Ltd., a manufacturer of state insignia, medals, breastplates and badges.
The fire and 'buta' (ancient Azeri paisley pattern) design on the obverse side of the medals reflects the heritage and culture of Baku and also features the city's iconic Flame Towers and Heydar Aliyev Center. The European Olympic Committees (EOC) logo is featured on the reverse side of the medals.
There will be 135 medal events at Baku 2019, with a total of 298 sets of medals being awarded.
"Produced especially for the occasion of the Chefs de Mission Seminar [5-8 May], this set of medals represents a very significant moment, with only a little time left until the start of the EYOF on 21 July," Efendi said. "The medals reflect the three main values of the Festival — innovation, quality, and transparency."
Efendi presented the first set of medals to EOC Coordination Commission Chair Djordje Visacki.
"We are delighted to be presented the official medals of the European Youth Olympic Festival in Baku," Visacki said. "These medals will symbolize the accomplishments of young athletes of Europe and they will stay with them for the rest of their lives. We strongly believe that the athletes will share the Olympic values and once more bring home from Azerbaijan, to their nations, extreme joy of their sport achievements but also message of friendship, tolerance and peace."
The EYOF will feature seven days of competition in 10 sports at 12 competition venues, all of which are already existing, making this edition of the EYOF also one of the most sustainable. Wrestling will join the EYOF programme for the first time this year.
Some 3,600 athletes and team officials are expected to take part in Baku 2019, assisted by 2,500 volunteers. The EYOF is the leading European multi-sport event for young athletes aged 14 to 18 and will run from 21-27 July in the Azerbaijani capital.