NEWS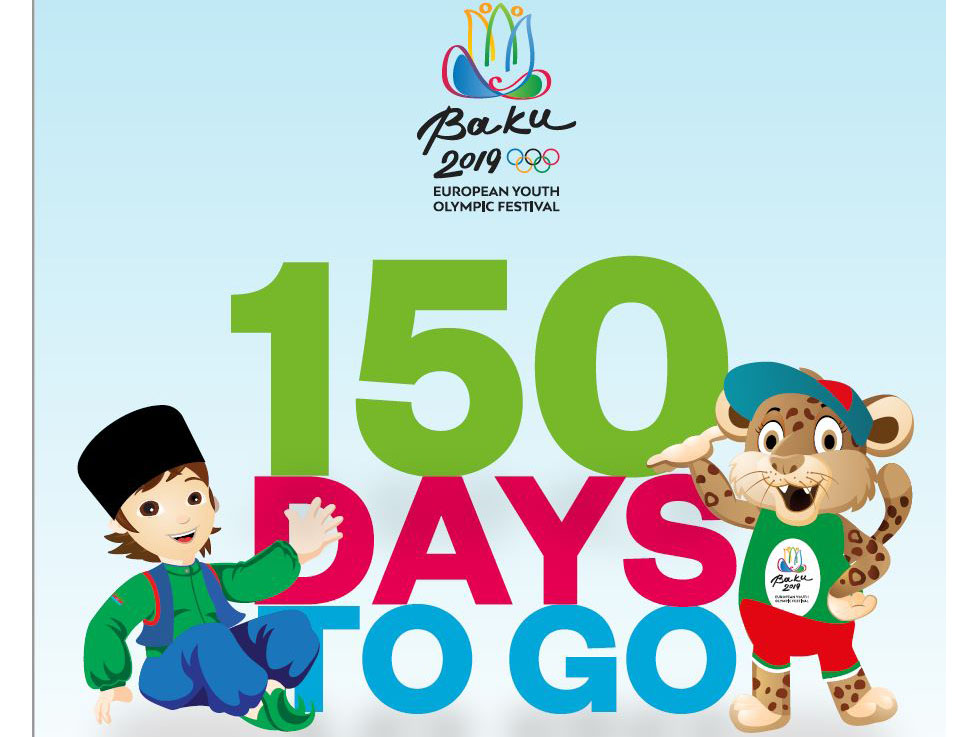 EYOF BAKU 2019 MASCOTS LAUNCHED TO MARK 150 DAYS TO GO!
Today, with 150 days to go to the 15th Summer European Youth Olympic Festival (EYOF), the official mascots for Baku 2019 were officially unveiled.
One is a little boy called Jirtdan, which in English means  'tiny' and is the most popular fairy tale character among the children's stories in Azerbaijan. Although he is much smaller than other children of his age, Jirtdan finds his strength in being brave and smart. He distinguished for a strong national identity, ingenuity, wit, courage and sympathy for others. In one fairy tale story, Jirtdan outwits a monster to save himself and his friends, proving that despite the young age and the small stature, one can be a fearless hero.
The second mascot is Babir, a Caucasian leopard, one of the best known and most widely recognised species in the Azerbaijan's fauna. The animal, which is considered a symbol of natural beauty, strength, fearlessness and speed, will promote the rich and beautiful nature of the country.
Unfortunately, the leopard is now on the brink of extinction and has become a top priority species for conservation in Azerbaijan and the region. According to the World Wildlife Fund (WWF), possibly fewer than 15 Caucasian leopards remain in Azerbaijan. The International Dialogue for Environmental Action (IDEA) of Azerbaijan signed a Memorandum of Understanding (MoU) with the world's leading wild cat conservation organisation Panthera in 2014. The MoU will implement a special monitoring programme for assessing the living conditions of leopards in Azerbaijan and ensuring protection of these species for future generations.
Jirtdan and Babir will reflect the glorious history and cultural heritage of Azerbaijan and will both be #ReadyToShine for Europe's premier youth event, which will take place in Baku on 21-27 July 2019.
##### 
Held under the patronage of the IOC, and the pride of the European Olympic Committees with almost 30 years of tradition, the EYOF is the first top European multi-sport event aimed at young athletes aged 14 to 18. There is a winter and a summer edition, which take place in two-year cycles, in odd-numbered years.
The event takes place under the Olympic flag and is rich with Olympic traditions: from the lighting of the flame to athletes' and officials' oaths. It is at the EYOF that many of Europe's inspiring sports stars of tomorrow take their first steps on the international stage. And while some may enjoy EYOF as a stepping-stone to Olympic greatness, all who participate take home friendships and experiences to last a lifetime.
Approximately 3,600 young people and their officials take part in the summer festivals, while there are around 1,600 participants at the winter editions.
 In total, 50 European National Olympic Committees will participate in Baku 2019, with athletes competing in ten sports: Artistic gymnastics, Athletics, Basketball, Cycling, Handball, Judo, Swimming, Tennis, Volleyball, Wrestling.