NEWS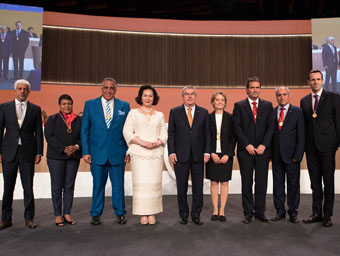 LIMA SESSION – EUROPE HAS 3 NEW IOC MEMBERS
Three Europeans are among the eight newly-elected IOC Members at the Lima IOC Session –  which closed down after a number of key decisions taken, such as awarding the organisation of 2024 and 2028 Olympic Games, electing news members, changes in the Executive Board and former United Nations Secretary General Ban Ki-moo as the new chair for the Ethic Commission.
Kristin Kloster Aasen, Norwegian NOC 1st Vice President has been elected as individual member. "For many years, she has done a great job at different levels nationally and we are sure she will help develop the Olympic movement in a positive direction." NOC President Tom Tvedt commented proudly.
Jean-Christophe Rolland (FRA) President of World Rowing and Ingmar de Vos (BEL), President of the International Equestrian Federation (FEI)  were elected as Members representing an International Federation.
In addition, Denis Oswald, IOC member in Switzerland, will be part of the IOC Executive Board – in which Anita de Frantz (USA) was elected as an IOC Vice-President. She already occupied this position from 1997 to 2001.
Among the sixteen Members who  were subject to re-election after eight years of membership, and were re-elected en bloc, seven belong to Europe: Franco Carraro (ITA);  Crown Prince Frederik of Denmark (DEN);  Princess Nora of Liechtenstein (LIE); Craig Reedie (GBR); Juan Antonio Samaranch (ESP), Pál Schmitt (HUN) and  Shamil Tarpischev (RUS).
Finally, long-standing IOC Member Gerhard Heiberg (NOR) was elected as IOC Honorary Member after he resigned from this position as Member.
Congratulations!